Wednesday, January 07, 2009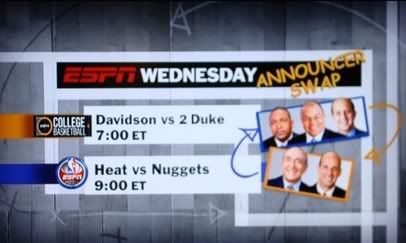 Everybody seems to love this Dickie V to the NBA idea, especially ESPN, so let's take a little look back at a more subdued Dickie V calling a Celtics-Bucks playoff game in 1984....
I still contend that this is a bad idea, but if it gets people to watch the NBA, you can't really fault ESPN for the stunt. I'm personally more interested in the NBA team of Breen, Jackson and JVG calling the NCAA game tonight, but I'll be checking out both and commenting on them tomorrow.
16 Comments:
Jan 7, 2009, 5:14:00 PM
Jan 7, 2009, 5:15:00 PM
Jan 7, 2009, 5:26:00 PM
Jan 7, 2009, 6:43:00 PM
Jan 7, 2009, 7:22:00 PM
Jan 7, 2009, 7:33:00 PM
Jan 7, 2009, 7:34:00 PM
Jan 7, 2009, 8:31:00 PM
Jan 7, 2009, 8:54:00 PM
Jan 7, 2009, 9:10:00 PM
Jan 7, 2009, 9:32:00 PM
Jan 7, 2009, 9:37:00 PM
Jan 7, 2009, 9:39:00 PM
Jan 7, 2009, 10:03:00 PM
Jan 8, 2009, 12:05:00 AM
Jan 8, 2009, 12:47:00 AM